Corporate Relocation is a monumental task that involves lots of complexities. It involves the physical movement of various types of office equipment and, many times, everything needed to transfer the entire workforce to a new location. It is more complex than moving a house, and the process requires in-depth planning, flawless execution, and manpower with specialized skills. Undoubtedly, the role of packers and movers in cooperative locations is critical. This blog will help you learn everything you need to know about the function of movers and packers in corporate relocation and why they are essential.
Understanding the corporate relocation
Corporate relocation is a process by which office goods relocation happens and involves moving the entire business and sometimes all its employees from one geographical location to another. It can involve intercity, intracity, or even international moves, and this task is very important for the company involved since the timely-looking location and the safety of goods depend on it.
From the CEO's office at the company to the IT department to the office staff to sensitive data, everything related to corporate office business needs to be carefully assembled and moved when moving. This includes packing, loading, transportation using the most appropriate mode of transportation, and reassembling at the target location. And all of this can prove too much if the corporate company tries to do it on its own. However, here, a professional packer who often provides services for corporate moves comes into the picture and makes life easy for them with their expertise and resources. Now that you understand why packing and moving companies are necessary for corporate relocation let us look at their advantages.
Major benefits of hiring a packer for a corporate Relocation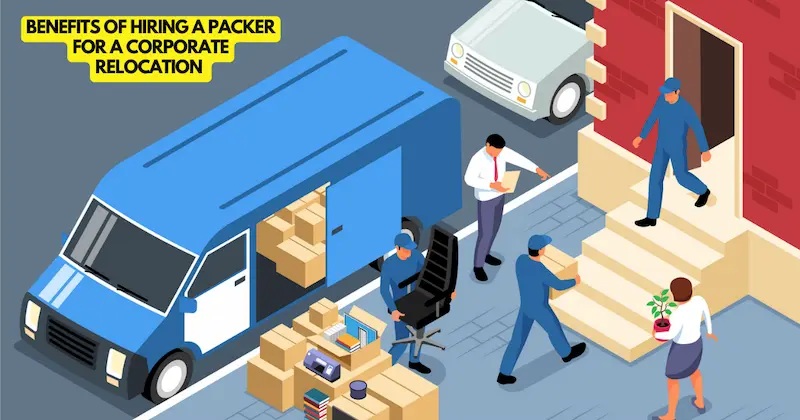 1. Expertise and experience
Just like house moving, when you look to hire an expert moving company, you are looking for expertise and experience. The same is the case here, as corporate companies need professional corporate movers' skills to ensure everything happens without glitches and according to plan.
2. Safety of goods
If you are related to the task of moving goods for any corporate company, you will know that the safety of the different goods is of paramount concern. It can be hard since it is not like moving goods from home. You have electronics goods, computer desktops, stationery, air conditioners, fans, and many other items. And carrying out such a complex task on your own is not recommended, so professional company hiring is a must in this case.
3. Peace of mind
Moving big corporate houses or even small ones can be a large assignment. Here, an unprofessional and casual approach has no place. So if you plan to move your company's goods on your own, you will constantly think about the whole process and try to do everything with inadequate expertise and resources.
It means things can go wrong at any time, and problematic events can occur, including damaging goods, late delivery, incomplete paperwork, and more. Here, professional movers and packers play a significant role, and they make your mind stress-free as you know that competent individuals are handling your move.
4. Timely relocation
In any business, time is always money, and when you are shifting to a new place, it is no different. You don't want your move to encounter an event where you do not relocate on time. Here, hiring a competent moving company is always a good choice. They have the manpower, resources, and knowledge to perform the task on time without any operational issues or delays.
5. Tailored solutions
Every relocation is a new task that demands specific planning and execution. If you hand over the task to a company with extensive experience, you will likely receive tailored solutions. For example, if you have several electronics, such as LED boards, they will ensure that their packaging is good quality and that items reach the destination location undamaged. Similarly, if you have large pieces of furniture, they may employ specialized tools to pack and load them into the transport vehicle.
6. Minimum downtime and business disruption
In moving goods for any corporation, one of the main aims is to relocate faster and start working again. Here, the role of professional companies offering packing and moving services for corporations is important. They'll ensure the task is completed within the target time, and the client corporate company can start working as soon as possible.
Now let's move on to understanding the services offered to corporate businesses
Top services offered by professional moving companies to corporations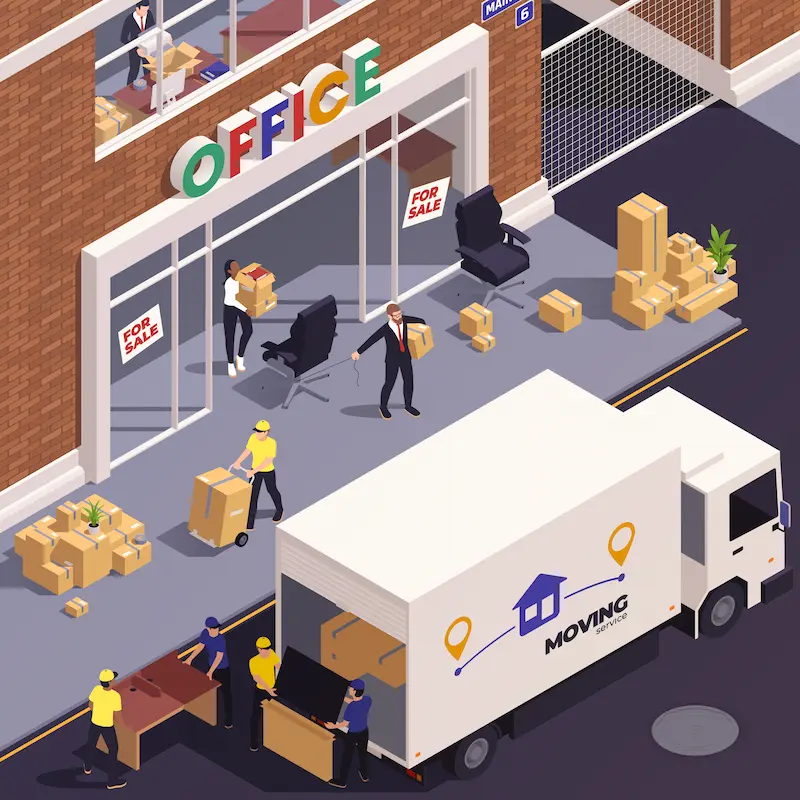 1. Office relocation
The packers and movers offer services to move furniture, electronics, stationery, documents, equipment, and goods from the office to the new location.
2. Storage and warehouse
There can be instances when corporate businesses need storage and facilities to keep equipment, goods, documents, furniture, electronics, and other stuff before settling into a new location, and many packers and movers companies provide them with it.
3. Specialized IT equipment and handling
Many corporate companies run the IT business. Sometimes they only need expert services to move their equipment. Some specialist packers and movers for corporate companies are excellent for this requirement since they have expertise in it. They also offer services such as data backup assembly, equipment assembly, and other related services.
4. Employee relocation
It is not necessary that only office goods will need relocation. There can be situations where, along with the goods, the office may ask the movers to relocate the employee's goods to help with their moving. Several expert packers and movers for corporate organizations do provide services as well.
5. Commercial vehicle relocation
In some cases, the corporate organization may ask the hired mover service to relocate their commercial vehicles. For this purpose, such companies use covered vehicles and specialized manpower, along with packing solutions.
6. Customised packing
Some moving companies offer services to complete the task of providing custom packaging for their office goods. They take this task independently as well, and it doesn't matter whether they have the task of moving goods via transportation or not.
7. Unpacking and setup
Apart from packing, some corporate companies hire a particular service only for the task of unpacking and setting up the goods at a new location. They sometimes even hire two companies, one for packing and transportation and another for unpacking and setting up goods at the destination.
8. Insurance
Moving company office services for corporations do offer insurance under their roof. Sometimes they offer options for more than one company and, at the same time, multiple options for covering different needs.
9. Documentation for compliance
In many places within India, you need documentation and permits when moving goods, especially if they belong to a particular corporate company, and you must also pay some taxes. Here, an experienced company offering moving services is a blessing. They play the role of facilitator and helper in such situations by completing documentation and other related activities.
Is it a good idea and imperative to hire professional movers?
If you are thinking of completely moving corporate goods without hiring a competent moving and packing company, it is always going to be a big struggle and a decision you will regret. In such relocation tasks, there is so much to do and so many components to the whole process that you will be in disarray trying to coordinate while at the same time juggling the ways to save money and time.
When you are moving to a new location and have only house stuff, it is still possible to relocate on your own, just by hiring a transporter. But the same is not a feasible option when it comes to corporate relocation. So almost all the time, you need to hire professional and expert services to complete such assignments. So visit a portal like the 6 Packers and Movers company and leave your request for the best relocation services for corporate goods moving. Make life easy for you.
Wrapping up
Whenever people think about the role of packers and movers in corporate moving, they will think they only move goods. Although it is such companies' main task, there is more to that. This blog post details the various tasks such companies perform and how critical they are for a corporate business. These include moving employees' stuff, helping with the timely start of operations at a new place by completing relocation on time, insurance, documentation, and more. This also sheds light on the fact that moving without such expert companies is never a good decision. In a nutshell, the role of moving and packing companies in corporate companies'  moving is indispensable.
Are you in Indore? Explore the services of Packers and Movers in Indore. If you're not in Indore, be aware that 6 Packers and Movers are available in major cities.
Frequently asked questions
How Far In Advance Should We Start Planning Our Corporate Relocation?

Regarding home relocation, you should start planning at least 4 weeks prior to the day of moving. However, in the case of corporate moving, it is better to start planning to move at least 8 to 12 weeks before, which means around 2 to 3 months before. It is because it is more complex than home moving.
What Items Should Be Personally Transported By Employees In A Corporate Moving

It goes without saying that sensitive items, such as laptops containing confidential data or specific documents or files, should be carried by employees to avoid the risk of losing confidential and critical information.

Certain items, such as personal belongings and sensitive documents, are often best handled by employees themselves; therefore, it's advisable to communicate guidelines to your employees about them.

The hired packers and movers should handle office furniture, equipment, and other large items. Delicate or valuable items, like artwork or electronics, should definitely be left to professionals with expert moving services to ensure their safe transport.
How Does One Ensure Data Security During A Corporate Relocation With Packers And Movers?

It is a supercritical question, and to ensure the safety of data while moving, follow these guidelines.

Take backups of the data files and store them on physical devices such as USB or cloud storage.
Use data encryption techniques to make the data more secure.
Make sure that the transport vehicle and the cargo of moving goods are appropriate and monitored.
Instruct the movers and packers to take care of the goods in more careful ways.
If the data is super important, it is better to get it transported via trustworthy employees.