We all have materials and items at home lying in many places. When you move to a new home, it is a chance for you to dispose of hazardous material from your overall belongings.
You will find that most packers move, saying no when moving such material items, and most of the time will have to get rid of them on their own.
However, such materials need you to practice caution, and you will also need expert knowledge to go about this process. This blog will discuss the common ideas and materials found in our household and the steps you will need to take to dispose of them wisely. But first, let's learn why it is necessary to dispose of hazardous material for you.
Why do you need to dispose of hazardous material?
Materials of a hazardous nature pose a threat to the environment. Moreover, If it is not removed properly, it can endanger children and even adults. The wrong handling of such materials can contaminate the water and air. The government also issues guidelines for disposing of such materials; therefore, you must follow them.
Another plus point is that you can contribute to the environment and sustainability by disposing of such materials. Because of the dangers related to such materials, you mustn't become relaxed about this aspect of moving. After knowing these reasons, you may ask: What are these common hazardous materials in household items?
Common Hazardous materials and items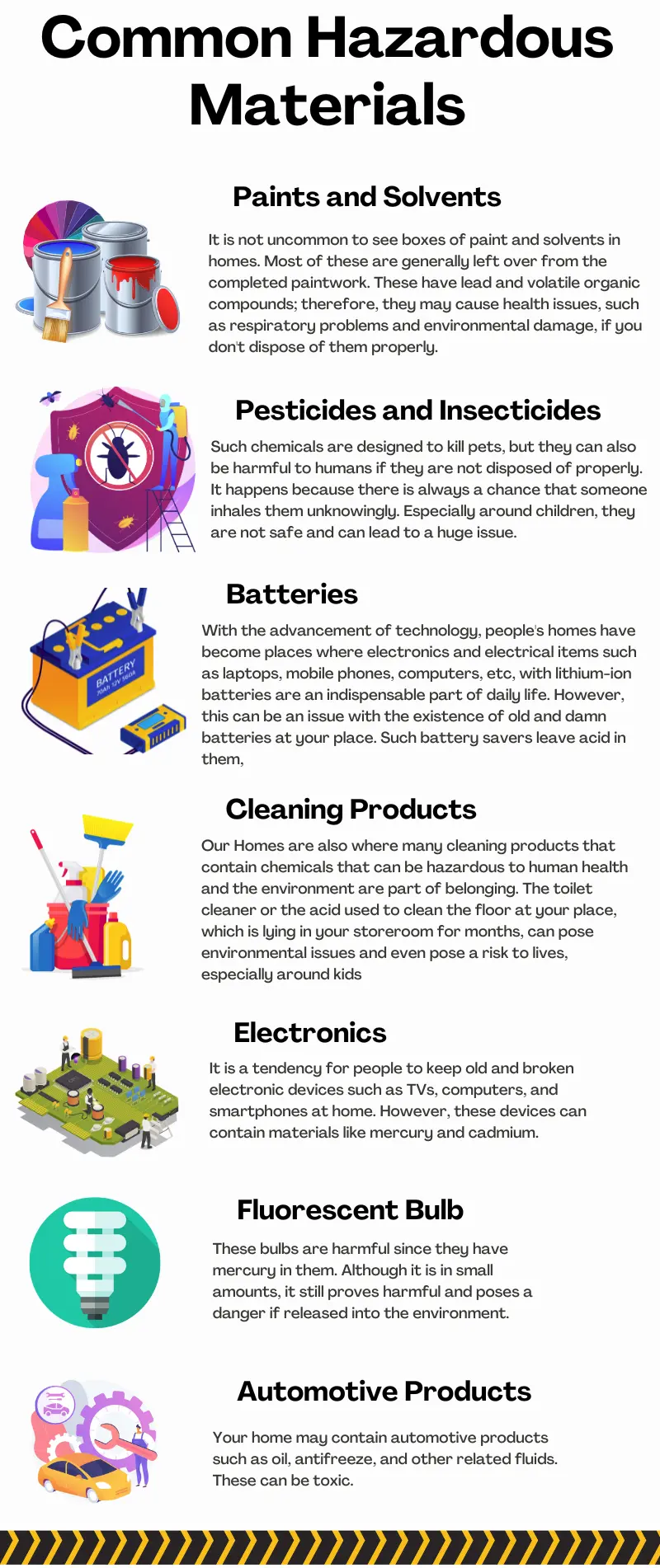 1. Paints and solvents
It is not uncommon to see boxes of paint and solvents in homes. Most of these are generally left over from the completed paintwork. These have lead and volatile organic compounds; therefore, they may cause health issues, such as respiratory problems and environmental damage, if you don't dispose of them properly.
2. Pesticides and insecticides
Such chemicals are designed to kill pets, but they can also be harmful to humans if they are not disposed of properly. It happens because there is always a chance that someone inhales them unknowingly. Especially around children, they are not safe and can lead to a huge issue.
3. Batteries
With the advancement of technology, people's homes have become places where electronics and electrical items such as laptops, mobile phones, computers, etc, with lithium-ion batteries are an indispensable part of daily life. However, this can be an issue with the existence of old and damn batteries at your place. Such battery savers leave acid in them, which can contaminate the soil and water supply if not disposed of cautiously and correctly.
4. Cleaning products
Our Homes are also where many cleaning products that contain chemicals that can be hazardous to human health and the environment are part of belonging. The toilet cleaner or the acid used to clean the floor at your place, which is lying in your storeroom for months, can pose environmental issues and even pose a risk to lives, especially around kids
5. Electronics
It is a tendency for people to keep old and broken electronic devices such as TVs, computers, and smartphones at home. However, these devices can contain materials like mercury and cadmium.
6. Fluorescent bulb
These bulbs are harmful since they have mercury in them. Although it is in small amounts, it still proves harmful and poses a danger if released into the environment.
7. Automotive products
Your home may contain automotive products such as oil, antifreeze, and other related fluids. These can be toxic. Now that you know about the several types of hazardous materials and items you need to look at your place, let's move on to discuss the main court topic on how to dispose of them properly.
Steps To Dispose Of Hazardous Material Wisely
1. Identify and segregate the material
In the first step, you need to go through your home items when planning for your relocation and identify all hazardous materials. Once you do that, you need to gather them at a place and segregate them according to their type.
For example, you can segregate them into types like paints, pesticide batteries, etc. Make sure that you go through all of your home, including your garage, basement, and all the rooms and corners of your house, to ensure nothing is missed.
2. Look for local regulations and disposal options
Many places in India have local disposal facilities, which are called treatment storage and disposal facilities (TSDF). A TSDF is a dedicated facility for storing, treating, and disposing of hazardous waste in an environmentally safe and sound manner.
Such facilities follow strict regulations ensuring safety while establishing a plant and operating with hazardous waste. In India, there are 47 such facilities available, so if you find one in your area, you can utilize it. Such facilities are available in 20 states. To locate one near your area, click on this link.
3. Consider selling the stuff
There can be stuff like old electronic items, paints, and old batteries that may fund buyers online. You can send such stuff on online marketplaces such as Facebook or use an application like OLX to sell the items and make money. Remember, even if your stuff is old and dead, it may hold some monetary value
4. Donate or give away
Most hazardous items you'll have in your household can be a good value for some people. If you have a computer that may not be working but has some parts, it may have some value for some people. The same is true with paint, cleaning, and other electrical stuff that you can think of giving way to your relatives and friends or donating to schools and NGOs around your area who need them.
5. Local disposal facility for electronics owned by companies
Many companies, like Apple, Samsung, and Cashify, allow people to give away their old phones, tablets, and laptops. Even if Your electronic product is dead, such centers recycle devices. The same is the case with fluorescent bulls and automotive products.
Always remember that you should never pour down the drain or throw automotive products in the trash, and you should take them to an automotive repair shop or a particular disposal facility that accepts them. If you search your area, you may also find auto shops that accept old automotive batteries, fluids, and other related items.
6. Pharmaceutical Drop-Off Programs
Unused or expired medications can be hazardous if not disposed of properly. However, you can often return them to your nearest pharmacies or police stations with drug take-back programs when moving. Like automotive fluids, medications should not be flushed down the toilet or thrown in the trash.
7. Paint Disposal
As stated, paint can be hazardous and should be disposed of properly. You can often return unused paint to the store where you bought it or look for community paint recycling programs.
This blog is about how to dispose of hazardous items when moving to a new location. This post touches on several aspects related to this topic; it explains that such goods need to be disposed of as they are dangerous for the environment and the people around them. Then, moving forward, it talks about the various ways such materials and items can be disposed of safely.
Some methods include recycling them in recycling centers, donating them all, and even selling them if possible. This blog is a guide that will help you with one of the important aspects of moving, and you must consider putting the knowledge shared in it into practical use when moving to a new place.
If you want to move with the help of credible Packers and Movers in Chandigarh Or anywhere in India, use the 6 Packers and Movers. It is the most dependable platform to fund and book movers for all locations in India or worldwide.
FAQs related to disposing of hazardous materials before moving
Why do you need to dispose of hazardous material in the first place?

Hazardous materials can harm the environment and pose risks to human health if not handled properly. Moreover, there are also government guidelines to ensure safe disposal, and responsible disposal helps protect the environment. Therefore, you must be aware of it and dispose of it in the right manner
What are common hazardous materials in households?

The common hazardous materials include paints and solvents, pesticides, old batteries, cleaning products, electronics, fluorescent bulbs, and automotive products that you are likely to find in your cupboards, store rooms, unused rooms, and garages.
How can I dispose of hazardous materials wisely?

To dispose of such harmful materials and items, you can follow these steps:

First, identify and segregate the materials in your home.
Check for local disposal facilities (TSDF) and regulations
As stated in the blog, you may also consider selling, donating, or using company-owned disposal programs for items like old electronics, pharmaceuticals, and paint.