The cost is one of the most critical aspects to consider when planning to ship boxes to any part of the country or even internationally. When you know that you have several options in your hands to complete the task, you must evaluate the various options available to you. It may seem like a straightforward decision from the outside, but it is not. So how do you decide to choose the best mode of transportation to ship your boxes to any part of India or internationally? Don't worry if you do not have information about it, as this particular guide will help you make the right choice. Before evaluating various options, let's discuss the important considerations to look into when picking a shipping mode for them.
Considerations before shipping
1. Assess the size and weight
The first thing you need to assess is the weight and size of your boxes since they play a critical role in determining the cost of shipping. The bigger the box and the more weight they have, the costlier it will be to shift them to their destination.
2. Determine the distance and destination
The second aspect that has an impact on the cost is the distance and the destination location when you ship boxes. You can use Google to find the exact distance and then consider whether it is a same-city move, an interstate one, or an international one before choosing their transportation mode.
3. Calculate the budget for shipping
Budgeting is one aspect that helps with many tasks, and even when moving boxes to another place, you should create a budget. Naturally, the biggest factor will be the choice of transportation mode to move the boxes to a different location, and the next section of this blog will talk about the same.
Now let's move to the most important section about comparing the various shipping options available for shipping goods.
Comparison of shipping options
1. By road transportation
Using road transportation with the help of trucks is the most popular option for shipping boxes if you are looking to transport boxes within India. Several logistics and transport companies offer road shipping services, and picking them has many benefits. In the same category, you will find many moving companies that ship boxes and pack them as well with their expert services, generally known as packers and movers.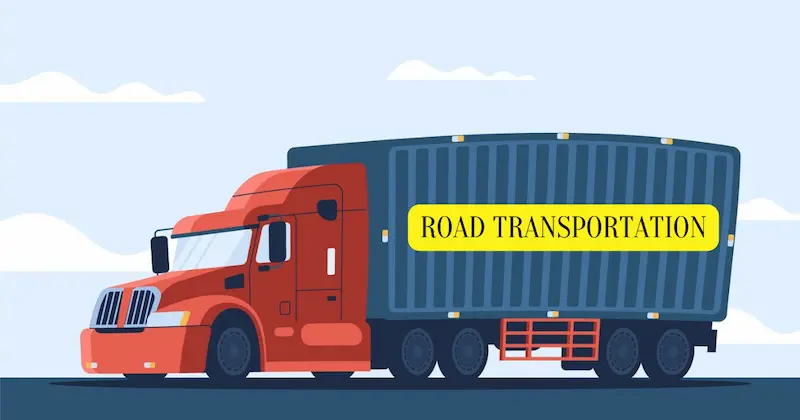 Here are the pros and cons of choosing road transportation for moving boxes.
Pros
Generally, this mode of road transportation is cost-effective for shorter to medium-range distances to ship boxes.
It's the best mode of transportation for boxes from door to door within the country.
It is good enough to handle various types of boxes and sizes.
Multiple companies offer such services, so there is no shortage of options.
Such services can pick up the boxes right from your doorstep.
Cons
Longer distances may take longer than the other models of transportation.
Road conditions and traffic can affect delivery times.
Since you have several options to choose from, you may choose a company that is not efficient, which may delay or damage the transportation of boxes.
2. Using Indian post or courier services
If you have shipping boxes that are not large and are not heavy, you may think of using India Post or private courier services to ship them. The plus point is that you will receive the parcel at your doorstep, which is convenient. However, it is not suitable for large-size goods and heavy boxes. Sending bulky goods by parcel post is impossible because the maximum weight limit is permitted up to 20 kg. The same is the case with most courier services, too.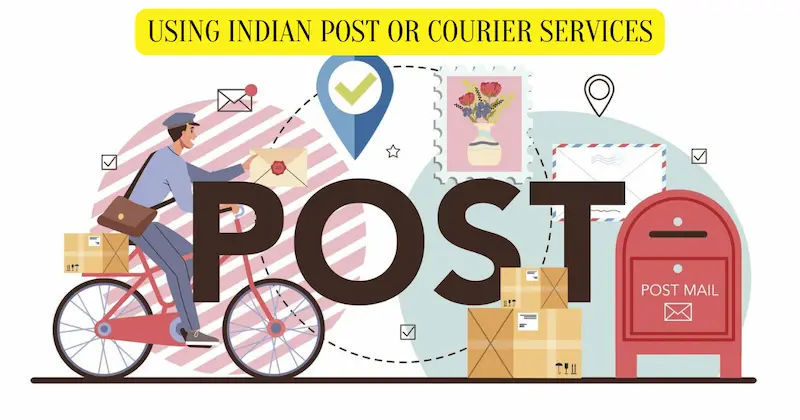 But if you have a shipping box within the permitted limit, courier and postal services may be reliable options since they also provide an excellent tracking system. In addition, some courier services also offer same-day and next-day delivery services. But practically, they are not suited for home moving or corporate moving tasks.
Pros
Both courier and postal services provide assured and speedy delivery.
Both options are excellent for small and low-volume items.
Doorstep delivery is another advantage of both.
Cons
More expensive for large quantities
The weight limit is another big shortcoming for both courier and postal services.
It is not suitable if you want to move household or business goods.
3. Air shipping
If you are looking for a long-distance option to ship boxes at a faster pace, especially for international moving, there is no better choice than air freight. But, do remember, it comes with a higher price tag than other modes of shipping. But if you have high boxes and a budget, it is the fastest way to ship the box anywhere in the world with the highest standard of security. However, in a country like India, most of the time, it is out of the reach of the middle class.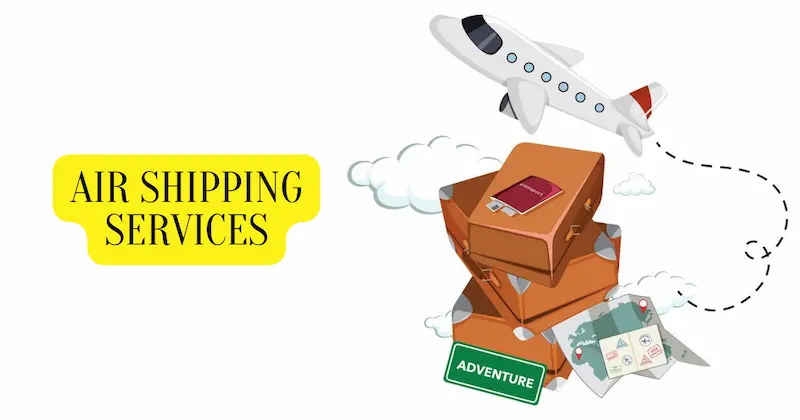 Air shipping is capable of shipping boxes over long distances in a short period.
It is the fastest way to send boxes to international destinations, which is not easy with other transportation modes.
Shipping by air brings the highest level of security since the standards of safety are the best in air cargo moving.
You can trust the air shipping companies to carry out the task of shipping boxes meticulously without doing any damage.
The biggest cost of using air shipping comes with the price tag, and it is typically 3–6 times more expensive to ship than other modes of transportation, especially if you compare it with ocean mode in terms of international moving.
Air transport has a lower carrying capacity than other modes of transportation. If you want to transfer something large, it is possible, but you have to obtain permission and clear the sophisticated documentation process.
4. Railway transportation
The fourth mode of transportation you can use to ship boxes is the use of Indian railways, and it can prove to be an expected option in quite a few scenarios. For example, if you're looking for an effective transportation model, especially for large volumes traveling long distances within the country, the transport rate can be 50% cheaper than road transport. It is also considered environmentally friendly and quite safe. It is the best mode of transportation for heavy or bulky goods like vehicles, furniture, raw materials for industries, and so on, over long distances. Moreover, since the reach of Indian railways is extensive, you can bet on it to relocate your goods to most places in India.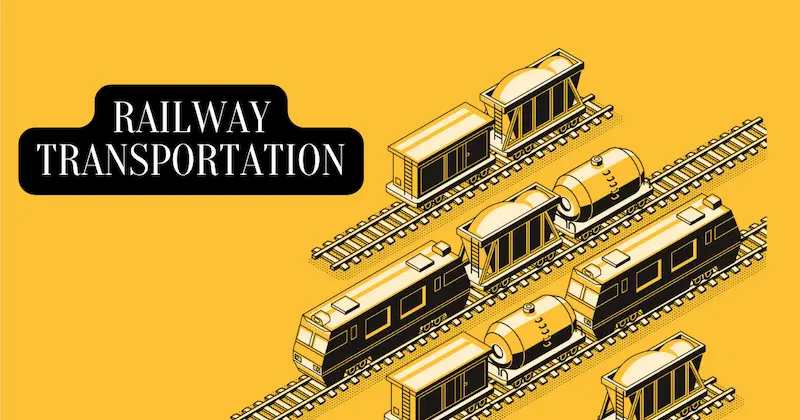 Rail freight is cheaper than other motor transportation over long distances.
Best for moving large-volume industrial goods.
It works in most climate conditions and can reach major towns in India.
If you want to use an environmentally friendly shipping method, there's no comparison; the railway mode is better in this regard than other modes of transportation like road or air freight.
Cons
The biggest con of railway transport is that it does not provide door-to-door shipping, and you have to drop the goods off at the pick-up location station and pick them up at the destination city station.
The Indian Railway indeed has an extensive network, but still, there are many small towns where connectivity is an issue, and not every town is connected by railway.
It is certainly not a good option for small to medium distances compared to road transport.
5. Ocean Freight
Shipping boxes within India via the ocean is not feasible and suitable in most conditions. especially when it comes to moving within India. However, it can be a good option if you are looking for international moving for long distances where you have to send shipping within a long time frame.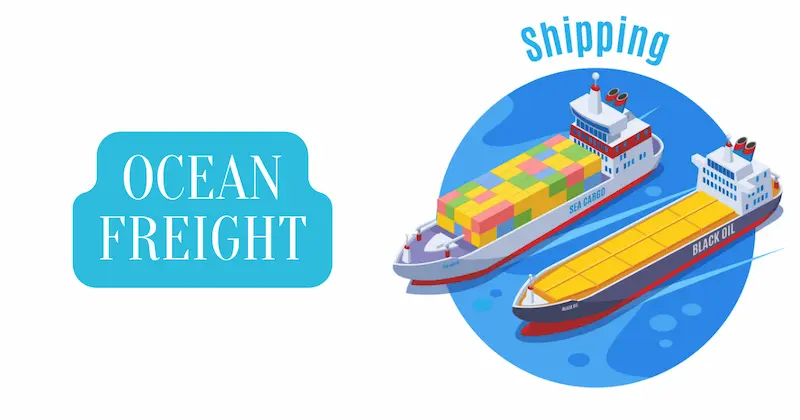 And if you talk about shipping within India, only the port cities take and receive the shipping boxes, like the cities of Visakhapatnam, Chennai, Port Blair, Mumbai, etc.
Ocean freight is the most cost-effective option for shipping goods over long distances in comparison to other options.
Just like railway transport. This option is also eco-friendly since it consumes less fuel in comparison to airplanes that use road transport.
If you want to move large and heavy items, it's a good option for international moving.
If you have no time-boundary limitations in moving boxes and goods to an international location, it can be much better than air shipping.
The lack of accessibility is the main limitation of the ocean moving. You will find them only in the port cities in India and abroad.
Ocean freight is much slower than the air transport of the shipping boxes, and if you add the customs issues and a delay caused by port authorities, the delay can be a lot more than other modes of transportation of shipping goods.
Final verdict
This blog post evaluates shipping methods to transport boxes in India and abroad. After evaluating all the factors, it is fair to say that the road transportation method is the best in most cases. Moreover, hiring a packer and moving company is always good if you want to move your house or business goods. However, if you are looking for international moving, you may want to look into other transportation options, such as air shipping or ocean freight. You may consider using postal or courier services if you have only small boxes.
Are you now in Kolkata? It might be a good time to look into Packers and Movers in Kolkata. If you're not, know that 6 Packers and Movers serves top-tier cities.
Frequently asked questions
What Factors Should I Consider Before Picking A Shipping Method For Moving Boxes In India?

As stated in this post, before choosing a shipping method, consider the size and weight of your boxes, the distance, and the destination. Moreover, don't forget to create a budget for shipping.
Which Box Shipping Option Is The Most Cost-Effective For Moving Boxes Within India?

Road transportation is generally the most cost-effective option for shorter to medium-range distances when moving boxes within India and the best for household and commercial boxes.
What Is The Best Option For International Shipping Of Boxes From India?

Air shipping is undoubtedly the quickest and most secure option for international shipping, but also the most expensive. Ocean freight is more affordable for long-distance international shipping, though it is slower and only available in port cities.