Generally, when we talk about moving goods, the picture of trucks carrying goods to their destination appears in our minds. But there is one more solution: train transportation. For most people, they are more than good enough options. However, many of you will be surprised to learn that the Indian Railway is also an option for moving household and commercial goods. It is an excellent alternative, particularly if you are looking to move to a place that is far away; train transport is generally cheaper in such scenarios. There are many other perks, along with cons.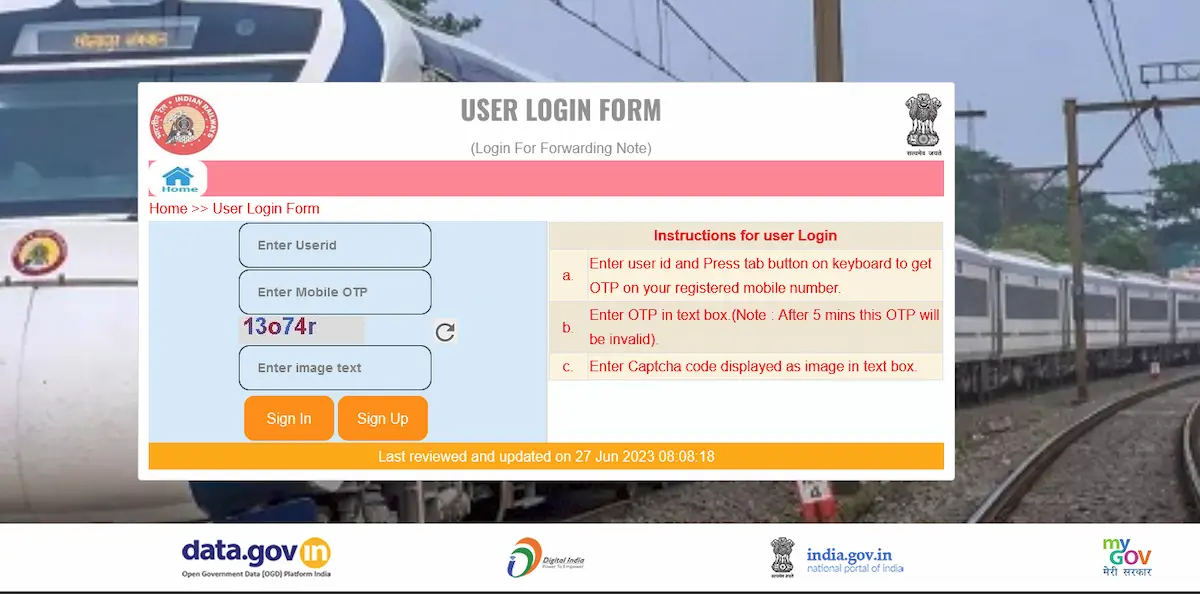 However, unlike road transport, people should be more knowledgeable about moving goods using trains. This blog will help you by disclosing import information about moving goods using Indian railways, its benefits, processes, and other related aspects. Let's start this post by learning about the benefits of moving goods via trains.
Advantages of choosing train transportation
When you opt to go by train to move your house or goods, some significant advantages come with it.
1. Affordability
Choosing train transportation for moving goods is cheaper than hiring a professional moving and packing company. It is especially true for long-distance moving. It is because the Indian Railways work under the government, so charges are reasonable most of the time and cheaper than other forms of transportation.
2. Safety and Reliability
Indian railways are incredibly safe. Its safety record is impeccable. With the integration of the latest tech, you can be almost 100 percent sure you won't have any safety issues.
3. High Speed
Unlike their counterparts, the Indian railway is a fantastic choice if you want to cover long distances at high speed. The railway transportation system does not face issues like traffic jams, long cubes at the toll bridges, speed limitations, fatigue issues over long distances, travel, etc.
4. Dependable choice
When you search for a packers and movers private company, there is always a slim chance that your chosen company may also con you. Since the government runs Indian railways, you can deal with them confidently, and the probability of getting scammed is very low.
Understanding the parcel and luggage facilities
One of the cons of choosing train transportation for moving goods is that only some know how to book a train space for their goods. It is hardly a surprise that the train is not a popular form of moving household goods. However, there is no need to worry, as in the next section, we will touch on and explain the process.
There are 3 types of options to move goods via train.
Parcel Booking: This option is ideal when you don't travel alongside your goods and treat them like a separate shipment. In this system, your belongings reach their destination as parcels.
Luggage transportation: If you want to accompany your goods, choose the luggage transportation option. If your interests are limited by numbers and quantity, you can opt for this option.
Freight Option: If you have heavy belongings weighing in at least a ton, this option can be used, but most people don't require it.
How Do You Transport Goods Using Railway Booking?
You need to follow a systematic approach to transporting goods via train. There are two options to make the booking, i.e., online and offline, and here are the steps to follow this process.
1. Packing of the goods
The first step is to pack the goods using high-quality packing supplies. It will help your interests withstand the journey of rigorous transportation. Make sure you do not compromise on it since transportation can prove tough on goods.
2. Manual booking
If you prefer manual booking, visit your city's railway parcel booking center along with your goods. Here, you need to fill out a form called forward note. Fill in the correct information, such as the destination state, the nature of the goods, and any other required information.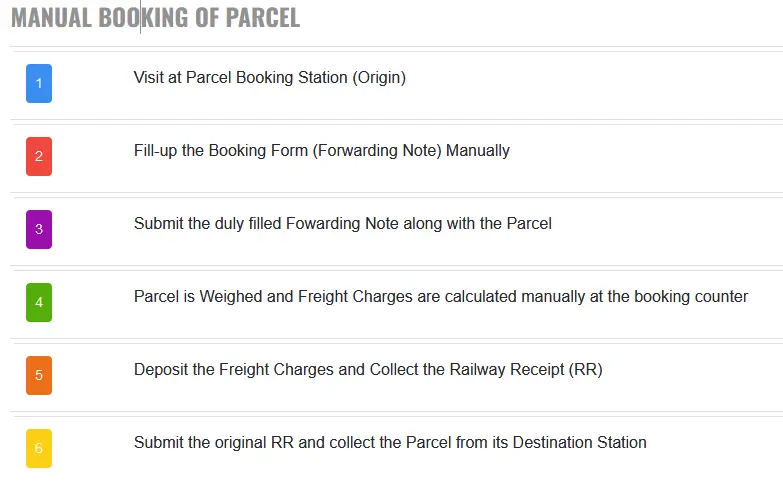 3. Weighing and calculation
At the railway parcel booking center, you need to weigh your parcel and pay charges according to the distance. You will receive a receipt for your freight payment charges here.
4. Online booking
Alternatively, you can book your parcel for railway transportation through the official Indian railway website. On the website, you need to fill in the details stating the origin and destination street station, pick the train after analyzing the schedule, and your destination and fill out the other information in the booking form. Then you need to submit the forward note there.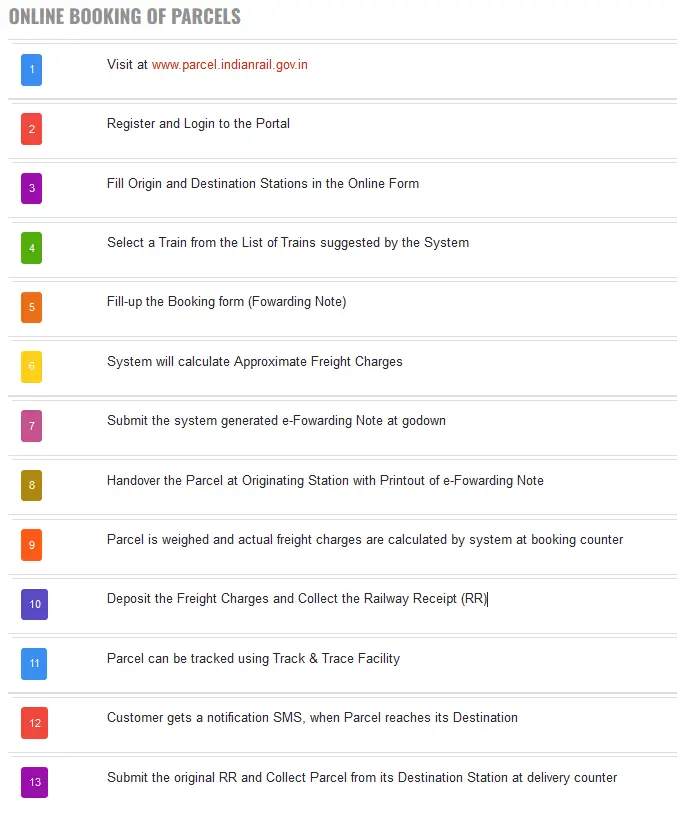 5. Tracking
After making the payment, you will receive a tracking number that you can use to track the progress of your shipment online. With the help of technology, you will receive a notification on your mobile once the parcel reaches its destination.
6. Collection at the destination
You must submit your railway receipt to receive the parcel containing your goods at the destination station. After you complete the formalities, you can take the goods from the railway station to your place.
Drawbacks of using train transport
1. No door-to-door connectivity
When you opt for moving using trains, the biggest drawback is that you do not get the door-to-door facility; you have to take your goods to the railway booking center, and when your goods reach their destination, you must take them from the railway station to your home.
2. Railways may not be available when you need it
When you hire a packers and movers company, you can ask him to conduct the pickup and delivery at any time. However, this is not true for railway transportation. Since railways follow a stringent timetable, not every station will have the facility to offer the services for your destination. You may face problems with the timing and availability.
3. Punctuality can be a big issue
Indian railways do face some technical issues from time to time. The weather, especially in monsoons and winters, can be very harsh. During these times, the punctuality of trains becomes an issue. So keep this point in mind.
4. Not ideal for small distances
Sending goods by train is not ideal for small distances. In such a scenario, it is better to take the help of a specialized packer and mover company. The mode of using the train to transport goods is a good option for destinations that are far away.
5. You need to do packing yourself
When you hire a packers and movers company, you have the privilege of getting your goods packed and it is included in the total cost of the hiring service. However, it is not true when you choose the railway to transport your goods.
6. Unprofessionalism
Some customers may experience unprofessionalism and not the kind of quickness that they expect to receive from private players. And if you are looking for premium customer support and top-quality service, it is better to go with other transportation modes.
When we think about the transportation of goods, people generally believe it is the only option. However, it is not true, and people can use railway parcel booking and luggage services to transfer goods to their destinations in various parts of India. This blog talks about and shares information about railway transportation, its pros, and cons, how to use it, and many other related factors. In crux, train transport is good in some circumstances; however, road transportation by hiring a packers and mover company is still a better option for most people.
FAQs About Transport Goods By Indian Railways
What Types Of Goods Can Be Transported By Rail?

Using rail is ideal for transporting goods of all types:

Rail transport is a good choice for fragile goods because it is relatively gentle when it comes to transporting goods. They hardly experience any jerk and movement-related issues.
It is a good choice for heavy goods because it can handle significant weight loads.
Rail transportation is a good choice for moving perishable goods because it can keep items chilled or frozen.
How Do You Transport Goods Using Railway Booking?

Here are the steps consisting both manual and online booking

Manual Booking:

Visit the railway parcel booking center.
Fill out a forward note form.
Weigh your parcel.
Pay the charges.
Receive a receipt.

Online Booking:

Visit the Indian railway website.
Select a train.
Submit a forward note.
Make payment.
Track the shipment using the provided tracking number.
What Are The Drawbacks Of Using Train Transport For Goods?

Following are the cons of using railway to move your goods:

No door-to-door connectivity, requiring you to manage transportation to and from railway stations.
Limited availability based on railway schedules and station facilities.
Punctuality issues, especially during harsh weather conditions.
Not ideal for short distances; better suited for faraway destinations.
Requires self-packing, unlike hiring professional packers and movers.
Some customers might experience unprofessionalism and slower service compared to private players.
Is Train Transportation A Safer Option For Moving Goods Compared To Other Methods?

Yes, Indian Railways have a strong safety record and integrate the latest technology to ensure the security of goods during transportation.
Can I Track The Progress Of My Goods During Transportation?

Yes, once you make the booking, you'll receive a tracking number that allows you to monitor your shipment's progress online.