It is never good to learn that your hired movers and packers company has canceled at the last minute because your whole planning for your move goes for a toss. In such a situation, you are likely to panic and may not know what your next step should be. However, if it is happening to you, there is no need to panic, and if you have the right knowledge, you can come out of such a precarious situation.
So, what is that precious knowledge that will help you when your hired moving and packing service suddenly cancels? Don't worry, this blog will help you with the same to help you escape such an unwanted and difficult situation! But before we get into the core topic, let's discuss why a hired moving company cancels abruptly.
Possible reasons why a packing and moving company cancels at the last minute
There can be multiple reasons for the abrupt cancellation by the hiring service for moving. Here is an overview of them:
1. Unforeseen reasons like road closures or weather issues
In rare situations, your hired service may contact you to inform you that they have to cancel because of a sudden issue like a road closure or weather issue. It happens rarely, but it can happen to you.
2. Overbooking
In some situations, the hired moving company cancels because they are overbooked. It happens because they do not plan the process on their side with efficiency. Relocation companies tend to encounter situations where their multiple clients who have made the booking cancel suddenly. So, they overbook, but in some situations, they find that they just do not have the logistical and manpower resources to provide you with service because the orders are just too many since customers did not cancel.
3. You have hired a fraud company
Another situation that doesn't happen to everyone but that you cannot just rule out is that the company you hired is a fraud. The company might have taken some advance money from you and wants to vanish with it. So, always be careful to ensure you are hiring a credible company, and here, the platform of 6 Packers and Movers is just a blessing.
4. Sudden Breakdown of the Transport Vehicle
It is another unwanted situation where you are waiting for the crew from the contracted moving company, and you get a call from their representative that their vehicle has suddenly broken down. In such a situation, they do not have an option but to cancel your scheduled move.
5. Other issues related to inefficiency
Other unknown issues can also occur internally in the hired service, and you do not have control over them. For example, poor coordination within the hired relocation services forces them to cancel your relocation, or they are just poor in the execution of their operations. So, they won't tell you the reason or make an excuse, leaving you in a difficult situation.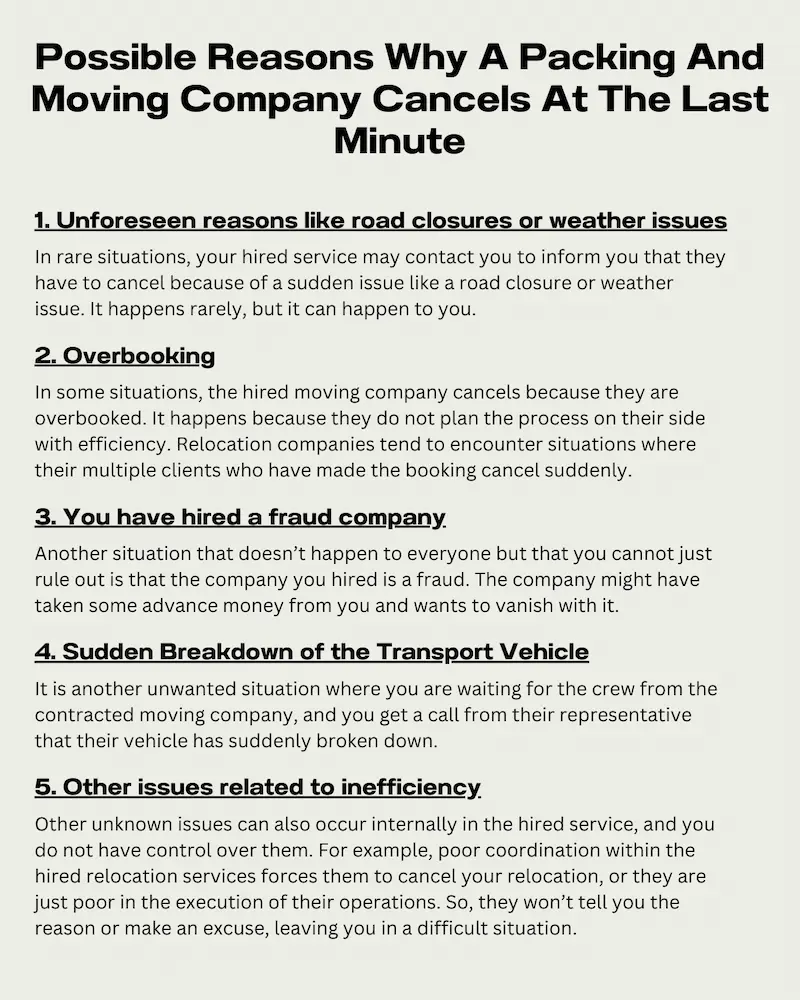 Now that we have discussed the possible reasons why a hired packers and movers service may fail to offer moving service to you at the last moment, it is time that this blog moves to the core of it, i.e., what to do in such a situation. Let's discuss it!
Steps and Tips for Last-Minute Cancellations by Packers and Movers
1. Stay calm and communicate
When you find yourself in such an awkward situation, the first thing you should do is remain calm. Just communicate with the representative of the hired movers and packers immediately to understand what has gone wrong that caused them to cancel the move. Effective communication will help you sort out the issue and may help you find an alternative solution for it.
2. Check the contract
You should go through the contract you signed with the movers and packers to learn about the terms and conditions of cancellations. It will help you find a solution or way to request and claim the refund find alternative arrangements, or a way to file a complaint with them. Moreover, you will have information about your rights in such a difficult situation.
3. Find an alternative service
If your current movers cannot fulfill their commitment, you can contact other reliable packers and movers in your area so that you can move quickly. For this, you may go online and find the nearest company and talk to them about your requirements, which might lead to a feasible solution for you.
4. Get an alternative date
If you are flexible with your moving dates, there is no harm in negotiating with the hiring relocation company to get the move done on an alternative day. This way, you can sort out the issue with the current company without causing an issue with your budget for the current move.
5. Try to complete the move with the help of the transporter
In some situations, you may have already completed the packing of your goods. If your current relocation company does not come, you may contact an alternative transport company to help you with a truck and labor. This way, you can complete your move on the designated day.
6. Ask for references from the current movers
If the cancellation is inevitable and you are searching for an alternative option, there is no harm in asking for references from your current movers. They are working in the industry, so their representative may tell you about alternative options to help you.
7. Go through your insurance
If you have taken in moving insurance, it may have some provisions related to such a situation, so you must communicate with their representative or go through your policy. With this step, you might find something that can help you in such a situation or even get the coverage to protect your belongings.
8. Legal recourse
The decision to file an official complaint with local police and speak to a lawyer is the last step you might take in case you have encountered a situation where your hired movers service happens to be a fraud company or you believe that you have been offered cancellation deliberately by their side. You should always keep a record of all the communication that has taken place between you and the packers and movers company, including copies of your receipts and contracts with them, so that you can have strong cases in case the matter reaches court.
How to avoid a situation where movers cancel at the last minute?
When your movers and packers company is canceling because of unavoidable reasons such as the non-availability of transportation or nasty weather, you cannot do much about it. However, you can weed out inefficient companies likely to commit fraud by becoming vigilant and cautious right from the beginning when you begin your planning. Do take time to plan your move, go through reviews, ask for references, and do a proper background check before hiring any relocation company.
Even after hiring any of them, stay in communication with them consistently, and communicate with them a day before the moving day so there is no delay or fewer chances of sudden cancellation from their side.
Wrapping up
In a situation where your hired company for relocation cancels at the last minute, it is not ideal. In this situation, many people lose their cool and do not know the right process to get out of it. This blog discusses this scenario at length and sheds light on various steps and tips that can help you out of such a difficult situation. It also discusses why a company may cancel unexpectedly and advises on how to be cautious against picking inefficient or fraudulent companies. Hopefully, the information shared here will be of good use to you, and it will provide you with ample knowledge to help you out when your movers cancel abruptly.
If you want to move Indore to any location in India with the help of credible Movers and Packers Indore, whether for home relocation or commercial relocation, the platform of 6 Packers and Movers is an excellent choice for finding a suitable and trustworthy company for your requirements.
FAQs About what to do if your movers cancel at the last minute
What Should You Do If Your Moving Company Cancels At The Last Minute?

If your mover cancels at the last minute, you must remain calm. Contact them right away to find out why the cancellation was made. Check your contract for cancellation terms and, if necessary, seek an alternative moving service. Document all communication and consider legal recourse if you face significant harm or loss due to the cancellation.
Why Do Movers Come Late?

Sometimes, movers will be late due to things like traffic, unforeseen delays from previous moves, or access issues. It is best to communicate with your movers to stay informed of any delays. Planning your move during off-peak hours or days can also help reduce the likelihood of your movers being late.
How Can I Get Ready For A Smooth Move In The Event Of Last-Minute Cancellations?

To ensure a smooth move in the event of last-minute cancellations, consider creating a backup plan by researching and contacting alternative movers in advance. Keep necessary items, important documents, and valuables on hand. Label boxes, create an inventory list, and notify utility companies about your upcoming move as soon as possible. You can lessen the impact of unforeseen cancellations by using a checklist and making backup plans.
How Can I Avoid Last-Minute Cancellations By Movers And Packers?

To prevent last-minute cancellations, it's advisable to research and choose a reliable moving company from the start. Read reviews, ask for references, and stay in consistent communication with the company to reduce the chances of sudden cancellations.