When you reach your new location, you want your unpacking to be a stressless event. However, just imagine you have reached your place, and you have no idea which box to open first, and you cannot find the most important thing you need, which will surely drive your mind nuts. This is why packing is a significant event; you must take it seriously when moving to a new location.
Properly organizing and labeling your boxes can make this process manageable and less stressful. However, you will need the right information and tips for it. This guide exists for this purpose and will help you organize and leave boxing for easy unpacking.
So without keeping you waiting, let's move on to discuss the steps to organize labeling and packing boxes for easy unpacking.
Tips for making unpacking a stress-free and organized event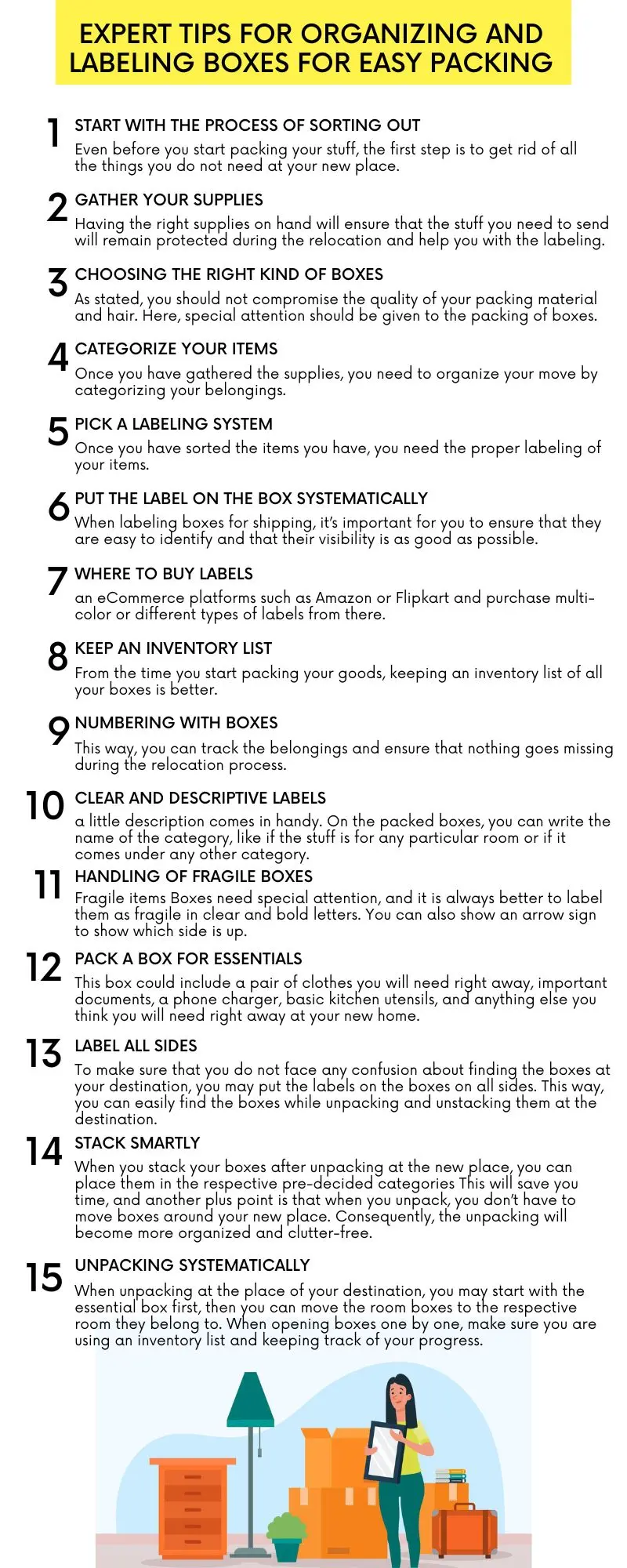 1. Start with the process of sorting out
Even before you start packing your stuff, the first step is to get rid of all the things you do not need at your new place. Get rid of such items by selling, donating, and disposing of them to make your moving lighter and clutter-free. You will have a lesser number of boxes you will need for your packing, and consequently, it will help you plan better for your moving
2. Gather your supplies
The second step you need to take for efficient packing is to gather the necessary supplies. Make sure you are not compromising on quality when choosing various packing supplies, such as cardboard boxes, packing tape, bubble wrap, packing papers, markers, and labels. Having the right supplies on hand will ensure that the stuff you need to send will remain protected during the relocation and help you with the labeling.
3. Choosing the right kind of boxes
As stated, you should not compromise the quality of your packing material and hair. Here, special attention should be given to the packing of boxes. The choice of boxes matters, and you need to find boxes according to the items you have. For example, you may need to arrange heavy-duty boxes for books and fragile items, wardrobe boxes for clothes, and specialized boxes that will help you keep your electronics and other stuff protected during the journey.
Another aspect that is very important about choosing a box is selecting the right size, as it will help you out with packing and result in efficient loading.
4. Categorize your items
Once you have gathered the supplies, you need to organize your move by categorizing your belongings. Pick up a diary and create notes to categorize items. You can group them on the basis of their type of function or the room they belong to at the new place. The common categories include kitchen items, clothing, books, personal documents, electronics, etc. You can categorize them according to their room and other categories based on other criteria, such as functionality or value.
5. Pick a labeling system
Once you have sorted the items you have, you need the proper labeling of your items. For this, you can add and color code them in an efficient way to organize and label them. You can use a specific color sign according to the category. For example, you could use yellow for the kitchen, red for the bathroom, green for the bedroom, and blue for the living room.
6. Put the Label On the box Systematically
When labeling boxes for shipping, it's important for you to ensure that they are easy to identify and that their visibility is as good as possible. To achieve this, you can place the label securely on the outside of the box and make it as big as possible, especially in width, to maximize visibility. You should not avoid putting the label on a closing seam or over the sealing tape, as it might get damaged during their journey to the destination.
Another step you can take is to use robust, transparent adhesive tape. This will ensure that the important shipment details or barcodes on the label are not obstructed from viewing. All these steps make the shipping or moving process smooth, reduce the risk of damage, and help you and the moving or shopping crew as well.
7. Where to Buy Labels
Now that you know how to put labels on them, you will want to know where you can purchase them. To buy labels for packing, there are a variety of online and offline options available to you. In offline stores, you can go to a stationary shop or office supply store, which often has a variety of products, including labels, to meet different needs.
If you are looking to buy customized labels for branding a specific purpose, you can also explore the services of local shops or online printing companies, as they can help you design and order labels customized to your needs. If you do not have the specific need to put any branding on your labels, you can go to an eCommerce platform such as Amazon or Flipkart and purchase multi-color or different types of labels from there. They are available at different prices and are suitable for multiple budgets.
8. Keep an inventory list
From the time you start packing your goods, keeping an inventory list of all your boxes is better. This list will be invaluable when you unpack since it will help you keep track of your belongings while loading and at the new place when you unload them. Moreover, there will be less chance of you losing any packed boxes during the process of relocation.
9. Numbering with boxes
When you are packing your items, it is advisable to label them with numbers. This method helps effectively keep track of the items when transporting them to a new place. This way, you can track the belongings and ensure that nothing goes missing during the relocation process.
10. Clear and descriptive labels
The label is an identification source for you. And in the case of packing, you need not make this step a complex one. Here, a little description comes in handy. On the packed boxes, you can write the name of the category, like if the stuff is for any particular room or if it comes under any other category. For example, you can use descriptions like kitchen pots and pans, stationary essentials, or medical stuff to pack boxes. Such descriptions ensure they're easy to identify since the written description clearly tells what is inside them.
11. Handling of fragile boxes
Fragile items Boxes need special attention, and it is always better to label them as fragile in clear and bold letters. You can also show an arrow sign to show which side is up. Fragile items such as glasses, handmade pots, and electronics require an extra layer of protection, like bubble wrap and packing paper, to protect them for the journey.
12. Pack a box for essentials
It is important that you pack a separate box with the essentials you will need right away once you reach your new place. This box could include a pair of clothes you will need right away, important documents, a phone charger, basic kitchen utensils, and anything else you think you will need right away at your new home. Another tip is that when you load the boxes into the transportation vehicle, you may put the essential boxes in a place where you can easily access them.
13. Label all sides
To make sure that you do not face any confusion about finding the boxes at your destination, you may put the labels on the boxes on all sides. This way, you can easily find the boxes while unpacking and unstacking them at the destination.
14. Stack smartly
When you stack your boxes after unpacking at the new place, you can place them in the respective pre-decided categories This will save you time, and another plus point is that when you unpack, you don't have to move boxes around your new place. Consequently, the unpacking will become more organized and clutter-free.
15. Unpacking systematically
When unpacking at the place of your destination, you may start with the essential box first, then you can move the room boxes to the respective room they belong to. When opening boxes one by one, make sure you are using an inventory list and keeping track of your progress. Cut off the boxes you have opened from the inventory list to keep the process efficient.
When you reach your new place, unpacking should not be a hassle-filled process where you are confused all the time. Labeling the boxes and planning the packing right from the beginning can make your life easy. By following the steps about labeling and packing stated in this blog piece, you will surely have an easy time with your unpacking experience at a new destination. This also helps you move with less stress to a new place.
Do you want packing and unpacking to be efficient? You can always book an efficient Packers and Movers company in Lucknow to move with the help of the 6 Packers and Movers platform. Visit the website and request quotes from the nearest credible moving and packing companies.
FAQs
Why Is The Labeling Box Important When Moving To A New Place?

Labeling the boxes is crucial because it helps you identify the stuff inside the boxes when packing at the new place. For example, when you label your "essential box," you will not have to struggle when find it and will get access to the essential items at the destination straight away.
What Is The Best Way To Level Boxes During A Move?

The best way to label the boxes involves the following steps.

You may use a system of labeling, such as color coding.
Put a number or clear description on the box level so you can easily categorize and find your items.
Put a big arrow to describe which side is up and which one is down so that you do not open the box on the wrong side, which may jeopardize their safety.
What Is The Best Way To Unpack The Boxes At The Destination?

When you reach your destination, it is better to place packed boxes according to the rooms. If you have created any other category when packing, go according to that. Use the inventory list and open the boxes according to the categories one by one so you can track and make unpacking a clutter-free experience.