Moving to a new home is an exciting but challenging endeavor since you have a lot on your plate, from arranging a moving company to picking the best place that can accommodate you and your family. One of the major decisions you'll have to make during this process is whether to opt for a fully furnished house or an unfurnished one where you move your furniture or appliances.
You should not make this decision without thorough research and consideration of many factors because this choice can significantly impact your lifestyle, budget, and overall living experience. Undoubtedly, you will need expert advice as well. For this particular purpose, this blog will prove helpful to you as it will explore the pros and cons of shifting to a fully furnished house to help you make an informed decision. Let's begin with a discussion of its pros.
Pros of moving to Fully Furnished House
Convenience:
The first advantage of getting a fully furnished place is the element of convenience since you do not have to buy anything from the market. In most cases, everything is always set up for you at the new place. You become stress-free, and you do not need to carry any furniture or appliances, like refrigerators, beds, chairs, etc., with you. Just carry a bag of clothes and a few other personal gadgets like a smartphone or a laptop, and you can start living comfortably—when you are moving to the place.
Cost Savings:
Another advantage is that you end up saving money, especially if you plan to live for a short duration. Because you are not spending any money to buy new furniture, appliances, and other stuff for the new location, and if you include the charge to move goods that you will pay to a transporter or a packers and movers company, savings can be substantial. So indeed, moving to a furnished place is a better choice if you compare the cost aspect with an unfurnished one.
Aesthetic Appeal:
Many people like their homes to be decorated in a good manner. This is where they hire expert interior decorators and designers. However, in most cases, fully furnished places come with good interior design. Consequently, you will not probably need to redecorate, which will free up time for you to do other tasks. But the quality of decor and furnishing is a subjective choice.
Flexibility:
Many people like to move and change locations from time to time due to personal and professional reasons. If you are one of those people, fully furnished places are good for you because you are not purchasing the whole place for yourself but only paying the rent. It gives you the flexibility to move to many places according to your requirements, and a particular place does not bind yo
Minimal Maintenance:
The maintenance charges can eat into your savings, but not when you take a place on rent. The landlord or property manager is usually responsible for maintaining the furniture and appliances. If something breaks or needs repair, you can simply contact them to have it fixed, reducing the stress and expenses associated with repairs.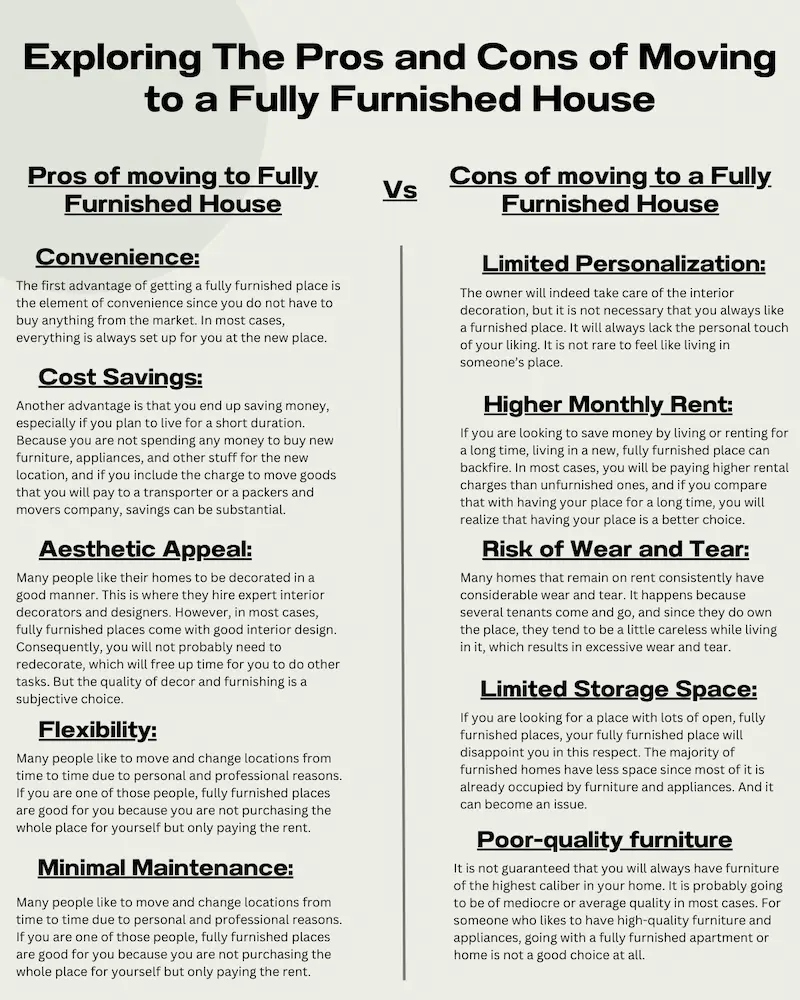 Cons of moving to a Fully Furnished House
Limited Personalization:
The owner will indeed take care of the interior decoration, but it is not necessary that you always like a furnished place. It will always lack the personal touch of your liking. It is not rare to feel like living in someone's place. As a result, to feel as if you are living in a place of your choosing, you will need to purchase your property or an unfinished space where you can use your existing belongings or buy new ones and have them moved by a packers and movers company.
Higher Monthly Rent:
If you are looking to save money by living or renting for a long time, living in a new, fully furnished place can backfire. In most cases, you will be paying higher rental charges than unfurnished ones, and if you compare that with having your place for a long time, you will realize that having your place is a better choice. For example, if you have to choose between renting a home for INR 30000 per month for 15 or more years and owning a 2 BHK home on loan, you will find that the per-month installment of the loan will be lower than your monthly rent.
Risk of Wear and Tear:
Many homes that remain on rent consistently have considerable wear and tear. It happens because several tenants come and go, and since they do own the place, they tend to be a little careless while living in it, which results in excessive wear and tear.
Limited Storage Space:
If you are looking for a place with lots of open, fully furnished places, your fully furnished place will disappoint you in this respect. The majority of furnished homes have less space since most of it is already occupied by furniture and appliances. And it can become an issue. For example: you live in a big city and do not have any family but live alone. You take a 1bhk flat on rent but find out that both of those rooms have furniture already inside of them. You may plan to use the second room for exercise and gym equipment or just to make room for some other items; however, the furniture already occupies the space, and it will become an obstacle.
Poor-quality furniture
It is not guaranteed that you will always have furniture of the highest caliber in your home. It is probably going to be of mediocre or average quality in most cases. For someone who likes to have high-quality furniture and appliances, going with a fully furnished apartment or home is not a good choice at all. For such gratification, you must take the place on your own or rent the place without furnishing and decorate that place with the help of a professional with your own furniture and household appliances.
Conclusion
This blog discusses that shifting to a fully furnished house instead of an unfurnished place has its advantages and disadvantages. The decision to go with a fully-furnished or unfurnished place ultimately depends on your individual needs and preferences.
For someone whose top priorities are convenience, cost savings, and short-term flexibility, a fully furnished house may be the right choice. On the other hand, if you are someone who values personalization, is on a tight budget, or plans for a more extended stay, going with an unfurnished home is better. However, you must evaluate both pros and cons according to your requirements for the place. This exercise of evaluating both pros and cons carefully will help you make an informed decision.
If you are moving with your furniture, you will likely seek the services of a Professional Packers and Movers Company in Mumbai. You should use the 6 Packers and Movers platform, an excellent portal for hiring credible movers for all your needs at the best price.
Frequently Asked Question
What are the benefits of moving into a fully furnished house?

The advantages of moving into a fully furnished house are convenience, cost savings, aesthetic appeal, flexibility, and minimal maintenance.
What are the cons of moving to fully furnished homes?

The cons of moving to a fully furnished house include limited personalization, higher monthly rent, the risk of wear and tear, limited storage space, and the possibility of poor-quality furniture.
How should I decide between a fully furnished and unfurnished house?

The decision between a fully furnished and unfurnished house depends on your individual needs and preferences. It is important to consider your lifestyle and needs before making a decision. A fully furnished house may seem convenient, but it may not be equipped with items that suit your preferences. On the other hand, an unfurnished house provides you with the freedom to customize and decorate your living space to your liking. Ultimately, the decision boils down to your personal preferences and lifestyle.